For this author of recipe books and culinary workshop leader from Belgium, shrimp croquettes are a childhood memory, and one of her children's favorite dishes.
These croquettes were the traditional entrance to Sunday's meals at Laura Annaert's.
These croquettes were the traditional entrance to Sunday's meals at Laura Annaert's. Julie Balagué for M The World magazine
Ingredients for 12 croquettes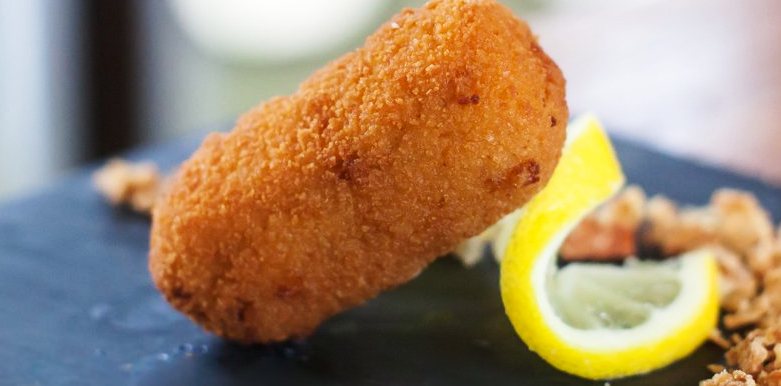 300 g unshelled gray shrimp (shelled if time is short, in which case replace the juice with as much lobster bisque)
200 ml of milk
50 ml of whipping cream
1 small bouquet garni
Salt, pepper, Espelette pepper
40 g of butter
60 g of wheat flour T65
50 g grated Gruyère cheese
2 eggs
2 egg whites
100 g bread crumbs
100 g flour for rolling croquettes
1 liter of cooking oil
½ bunch of flat parsley
1 lemon
For garnish: parsley (to fry in the cooking oil at the end), light mayonnaise, garnished with chervil or parsley, some capers, a little cream …
Prepare the shrimp juice
The day before if possible, shell shrimp. Reserve them in the refrigerator in an airtight box. Put the heads and carcasses in a saucepan. Add a bouquet garni, milk, cream. Season with salt, salt, and bring to a boil. Simmer on very low heat for 20 minutes.
Making croquettes
Melt the butter and add the flour while stirring to make a roux. Add shrimp juice by sieving. Mix vigorously until a dry mixture is obtained. Stir in eggs one by one, gruyere and finally shrimp.
Continue cooking for a few minutes if necessary to dry. In a hollow dish, form a homogeneous mass, film and leave an hour in the refrigerator.
Finishing and cooking
Prepare three plates, one filled with flour, the other with egg white and the last with breadcrumbs. Cut the croquette stuffing into pieces of equal size, shape each piece between the palms of the hands in a slightly flattened oval, then roll the croquettes in the flour, the egg white and finally in the bread crumbs.
Fry in oil at 180 ° C for 4 minutes. Serve with fried parsley and mayonnaise or tartare sauce, the Belgian gribiche.